---

2022 Canada Games General Information:
2022 Canada Summer Games Website -

click here
2022 Canada Summer Games Box Lacrosse Page - click here
NEW Canada Summer Games Brand - click here
Niagara 2022 Canada Summer Games Date Announcement - click here
Box Lacrosse Competition Dates:
17U Female: August 7-12, 2022
17U Male: August 16-21, 2022
CSG Athlete Handbook: click here
CSG Arrivals & Departures Handbook: click here
CSG Team BC Merchandise: click here
Quick Facts:
Box Lacrosse returns to the Canada Summer Games program after originally being on the program in 1969 and 1985.
Box Lacrosse will be featured at the 2022 Canada Games taking place in Ontario's Niagara Region - August 6-21, 2022.
Female and Male Box Lacrosse teams will compete in the 2022 Games.
2022 Canada Summer Games Livestreaming: Click Here
2022 Canada Summer Games Overall Box Lacrosse Schedules & Scores:
Overall 17U Female Box Lacrosse Schedule & Scores - Click Here
Overall 17U Male Box Lacrosse Schedule & Scores - Click Here
2022 Canada Summer Games Team BC Games Only - Schedules & Scores:
Team BC 17U Female Box Lacrosse Schedules & Scores: Click Here
Team BC 17U Male Box Lacrosse Schedules & Scores: Click Here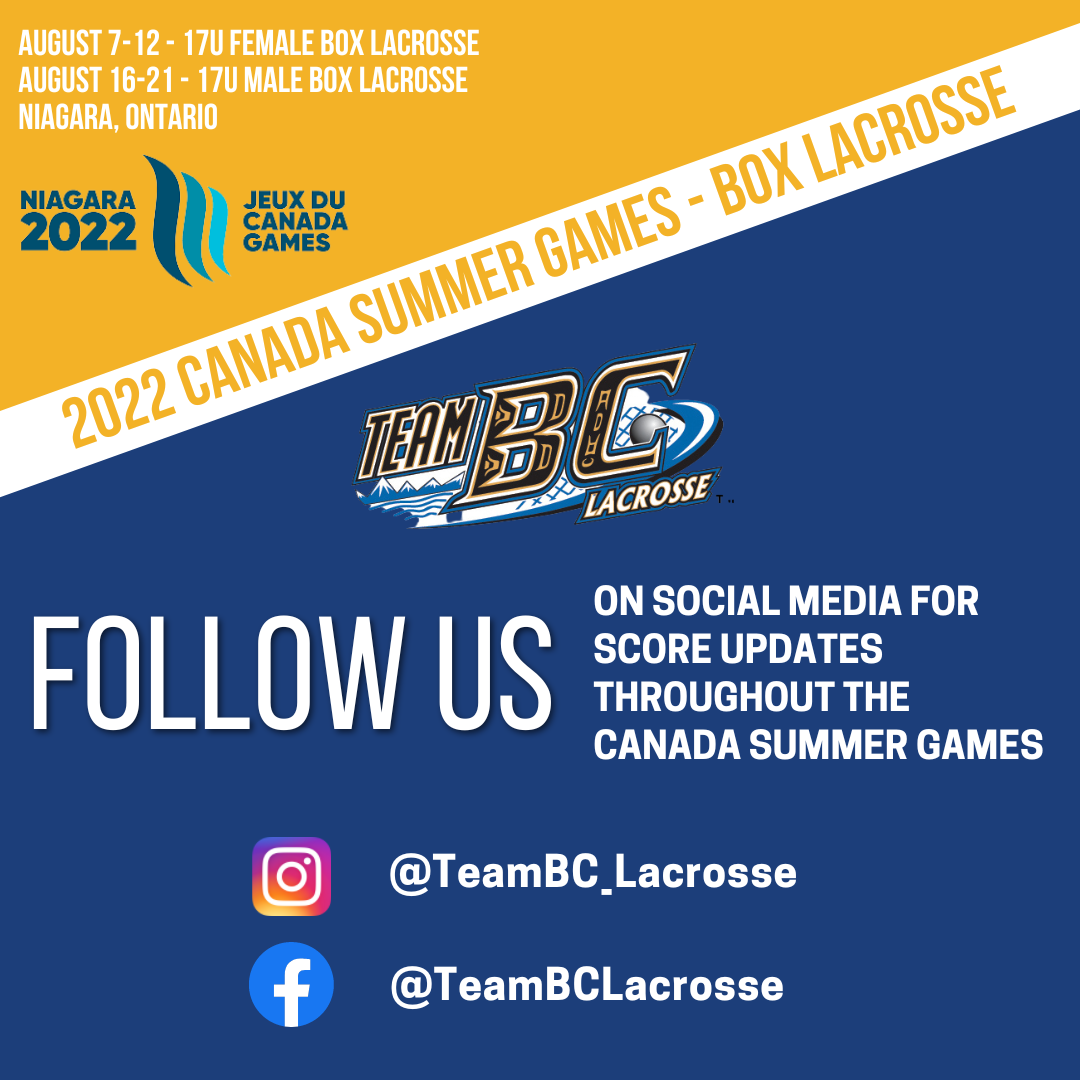 2022 Team BC 17U Male Athlete Profiles:
2022 Team BC 17U Female Athlete Profiles: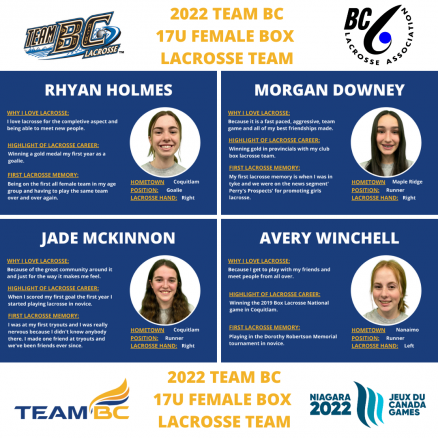 2022 Canada Summer Games 17U Roster Announcements:
Team BC CSG 17U MALE Team: Top 24

Roster Announcement

(posted May 12 2022) - click here

Team BC CSG 17U FEMALE Team: Final Roster Announcement

(posted May 12, 2022) - click here
Team BC CSG 17U MALE Team: Training

Roster Announcement

(posted Feb 1, 2022) - click here

Team BC CSG 17U FEMALE Team: Training Roster Announcement

(posted Jan 31, 2022) - click here

Team BC CSG 17U FEMALE Team: Training Roster Announcement

(posted Nov 10) - click here
T

eam BC CSG 17U MALE Team

Training

Roster Announcement

(posted Nov 12) - click here
Player Eligibility:

BCLA Registered Box Lacrosse Athletes (2021 Box Season and 2022 Box Season).
Age Eligibility - 17U Female and 17U Male - Birth years 2005, 2006, 2007.
Canada Games Council Eligibility Policy - click here
2022 Canada Summer Games Coach Announcement - click here
Covid-19 Vaccination Information
Team BC 17U Female & Male Program - Covid-19 Vaccination Policy Message (posted Dec 15) - click here
Canada Games Council - Covid-19 Vaccination Policy Statement (posted Dec 6) - click here
Canada Games Council - Covid-19 Vaccination Policy FAQ (posted Dec 6) - click here
Games Prep Program - click here
Games Prep Program Media Release - click here
---
History Facts about Lacrosse in the Canada Games:
​
Halifax-Dartmouth, Nova Scotia

August 16-24, 1969

1969 was the inaugural year for lacrosse at the Canada Summer Games.

Lacrosse - British Columbia beat Ontario 17-15 in the Gold Medal Game.

BC was the Grandview Legion Junior B team from South Vancouver-Trout Lake. Team was made up of 17-19 year olds.

Ontario was the Rexdale Warriors Junior A team made up of 19-21 year olds.

The Grandview Legion team would eventually turn into the Burnaby Cablevision.

YouTube Game Clips: https://www.youtube.com/watch?v=CfT84fcW2-E

click on photo to enlarge


A big thank you to Nick Delmonico for the archives
Fun 1969 Lacrosse Facts:
BCLA Registration was approx. 4,000 athletes
Mann Cup - Brooklin Redmen (ON), MVP - Bill Squires
Minto Cup - Oshawa Green Gaels (ON), MVP - Jim Higgs
President's Cup - Nanaimo Luckies (BC)
Founder's Cup - Vancouver Grandview (BC)


---
St. John, New Brunswick

August 11-24, 1985

The 1985 Canada Games were almost called off because of a labor dispute, but an agreement was met in the 11th hour.

Prime Minister Brian Mulroney officially declared the 1985 Canada Games underway in front of a crowd of 12,000 people at Canada Games Stadium.

Lacrosse - British Columbia defeated Ontario in the Gold Medal Game.

BC was the Victoria Seasprays coached by Victoria's Brian Spaven.

Paul and Gary Gait headed up this strong BC Team.

A big thank you to Grant Hamilton for the archives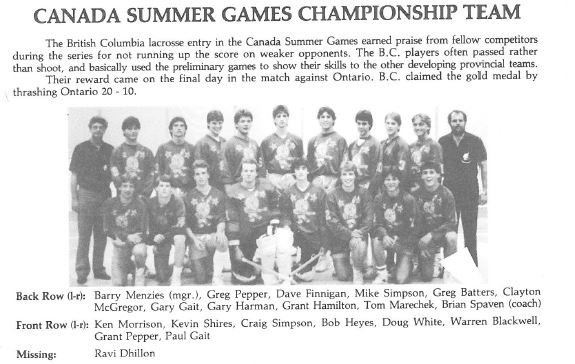 Fun 1985 Lacrosse Facts:
BCLA Registration was approx. 4,300 athletes
Mann Cup - Brooklin Redmen (ON), MVP - Wayne Colley
Minto Cup - Whitby Warriors (ON), MVP - Paul Gait
President's Cup - North Shore Indians (BC), MVP - Ben Hieltjes
Founder's Cup - Scarborough Saints (ON)
---