---
Box Lacrosse - Form 100B
2022 Box Lacrosse Form 100B - click here
Online Coaches FairPlay Form - click here - all Coaches must complete this form.
Form 100s are due May 1st for the Minor Associations and April 20th for the Senior Divisions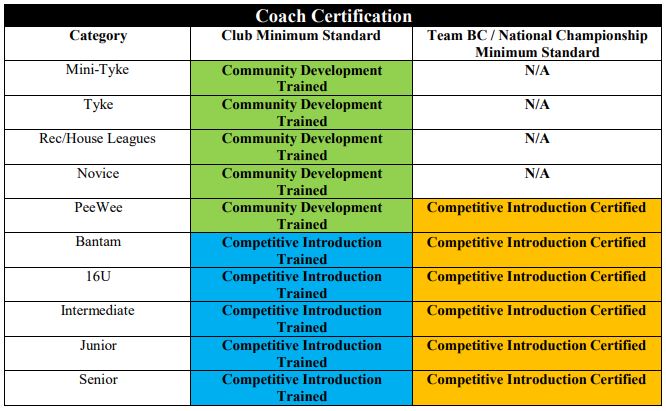 Head Coaches and Assistant Coaches (all coaches on the bench) will be held to the same standard at ALL times
Old NCCP Level 1 Certified is equivalent to Community Development Trained (CMD)
Old NCCP Level 2 Certified is equivalent to Competitive Introduction Trained (CPI)
A first year CPI Coach must be 'In-Training' ('In-Training' is attending the clinic and working on completion of the workbook and the Making Headway in Sport online module).
A second year CPI Coach must be 'Trained' ('Trained' is the completion of the workbook and the Making Headway online module).
National Team Coaches must be 'Certified' ('Certified' is once a Coach is 'Trained' they complete an Ethics course and evaluation).
Trainer Certification
Trainers must be certified a minimum of first responders (firefighter, ambulance, armed forces personnel, medical professional, etc.) or have an approved and valid trainer's certificate suitable registered on the Form 100B. Trainer certification, including a person trained as a first-responder must be noted on all applicable game sheets unless a trainer is provided for an entire event by the BCLA (i.e. Minor Provincial Championships).
---