---
BC Lacrosse Association:
---
---
Interested in playing lacrosse?
---
Register Now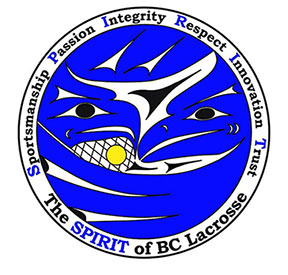 AGM / Special Sessions
2019 BCLA Annual General Meeting and Special Sessions (General/Senior Box/Minor Box) -

Timelines
2019 FIELD DIRECTORATE SPECIAL SESSION - 2nd Notice (posted March 6/19)
NOTICE OF MEETING - Saturday, April 6, 2019
10:00 AM-4:00 PM
Executive Hotel Burnaby, 4201 Lougheed Hwy
Lunch will be provided. Parking is complimentary when you sign in at the reception desk.
FORMS/INFORMATION
Notice of Field Directorate Operating Policy Proposed Changes
Meeting Agenda - updated March 22, 2019 (added FIL Hybrid Game)
Registration Form - DEADLINE: Fri March 22/19
Field Directorate Executive Nomination Form - DEADLINE: Fri Mar 22/19
Please note that all Field Directorate Executive Reports are due to the BCLA Office no later than Fri Mar 22/19.
---
2019 BCLA Merit Award Nomination Forms - DEADLINE: September 4, 2019
3(a1) - Coaching Category - Minor Box - Bill McBain Award - pdf Word
3(a2) - Coaching Category - Senior Box - John Cavallin Award - pdf Word
3(a3) - Coaching Category - Field - John Cavallin Award - pdf Word
3(b1) - Executive Category - Box - Art Daoust Award - pdf Word
3(b2) - Executive Category - Field - Art Daoust Award - pdf Word
3(c) - Ted Fridge Family Spirit Award - pdf Word
3(d1) - Manager Category - Box - Hugh Gifford Award - pdf Word
3(d2) - Manager Category - Field - Hugh Gifford Award - pdf Word
3(e) - Mr./Ms. Lacrosse - Tom Gordon Plaque - pdf Word
3(f1) - Referee Category - Minor Box - Jimmy Gunn Award - pdf Word
3(f2) - Referee Category - Senior Box - Jimmy Gunn Award - pdf Word
3(f3) - Referee/Umpire Category - Field - Jimmy Gunn Award - pdf Word
3(g1) - Association of the Year - Minor Box - Leon Hall Award - pdf Word
3(g2) - Association of the Year - Youth Field - Leon Hall Award - pdf Word
3(h) - Sponsor Category - Irvine-Calder-Nevard Award - pdf Word
3(i) - Trainer Category - Dal Martin Award - pdf Word
3(j1) - Individual at Local Level Category - Box - Ruth Seward Award - pdf Word
3(j2) - Individual at Local Level Category - Field - Ruth Seward Award - pdf Word
3(k) - Media Category - Norm Wright Award - pdf Word
---
AGM & Special Session Minutes:
2018
2017
2016
2015
2014
2013
2012
2011
2010
2009
2008
2007
---